Take Control of Your Card
CardValet is a free service that lets you manage your debit card anytime, anywhere - all through your mobile device. No longer will you need to call in to deactivate your card. CardValet allows you to turn your card "on" or "off", customize interactive alerts, enable location-based controls, set usage preferences, and much more. With CardValet, you have control over your debit card like you've never had before.
Available in the App Store™ or Google Play™
Features
Card Usage Controls
Set spending limits to allow transactions up to a certain amount and decline transactions when the amount exceeds your limits. You can also monitor or control transactions for specific merchant categories such as gas, hotel, travel, restaurants, groceries or electronic stores
Card On/Off Setting
Lost your debit card? Ease your mind knowing that you can turn your card off immediately with CardValet. When the card is "off," no purchases or withdrawals are approved until the card is turned back "on."
Location-based controls
The My Location control can restrict transactions to merchants located within a certain range of your location (using your phone's GPS); transactions requested outside of the specified range can be declined
Interactive alerts
CardValet can send a real-time alert when your card is used, when a transaction is approved and exceeds any of the permitted use settings, or when a card transaction has been attempted but is declined
Financial features
CardValet also enables you to conduct limited card-related transactions wherever they are, any time of the day, including balance inquiries and locating ATMs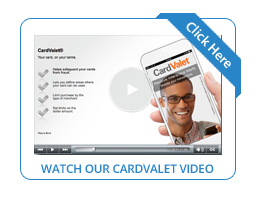 Download CardValet from the App Store™ or Google Play™